Over the last fifteen years or so, online shopping and the eCommerce world have exploded, and so have dropshipping services for these eCommerce businesses. Trillions of dollars are spent worldwide each year, and more and more people are hiring dropshipping suppliers and agents to help them be a part of the industry, and create their own success stories.
On the surface, opening your own store online seems like a great idea; you get to build your own company, perhaps sell something you are passionate about, be in control of your own schedule and, most enticingly, be your own boss. Add dropshipping services for eCommerce businesses to these factors, and you'll understand how and why so many online stores have popped up in recent years and thousands more continue to do so every month.
However, not every part of the process is simple and several important things need to be taken into consideration. One of the most important being whether you choose a drop shipping service or an eCommerce fulfillment center. But what is the difference? And how do you choose which one you and your business need?
Before we get into figuring how you can choose the one right for you, let's take a quick look at the difference in the simplest terms possible.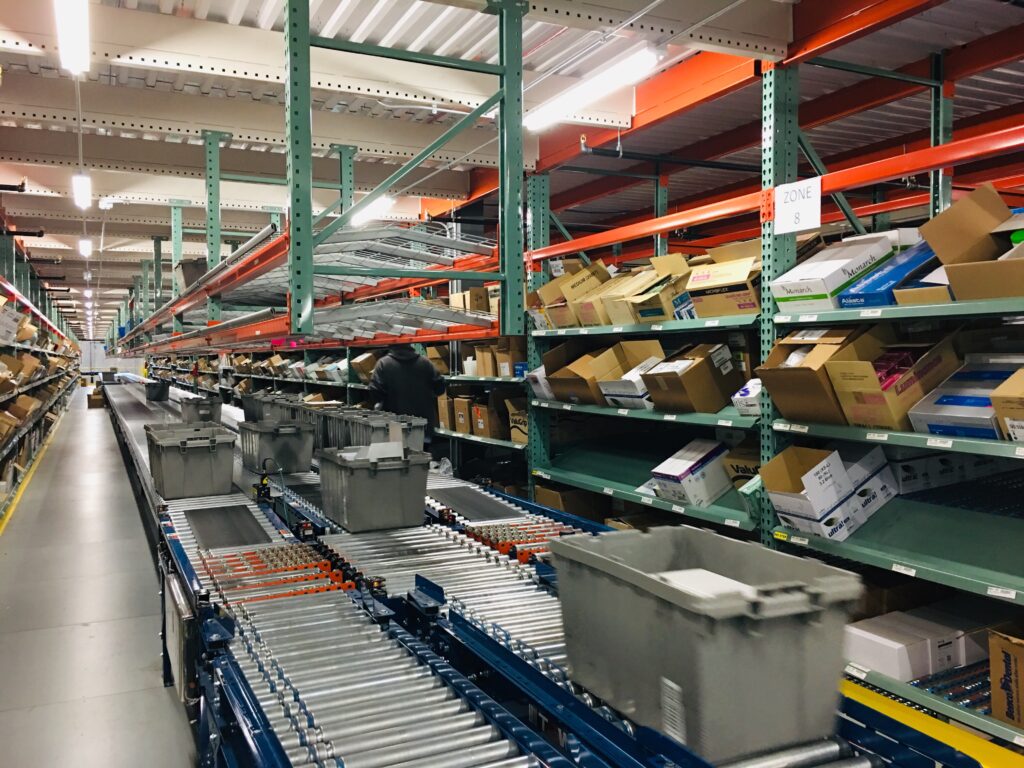 What's the Difference?
Drop Shipping
When you use a drop shipping service, you do not own any of the stock you sell. Instead, you list products for sale on your website and when you receive an order, your dropshipping supplier is notified and they send the order directly to the customer. In this scenario you act as the middleman, selling goods on behalf of a manufacturer or other trader and they ship the order as if it were sent from your company.
When it's time to scale your dropshipping operation, a critical step that you need to take is simplifying and streamlining your dropshipping business. You would need to find suppliers that will strengthen rather than compromise your dropshipping business.
Ecommerce Fulfillment
When you use an eCommerce fulfillment center instead, or 3PL, one of the main differences is that while you are not in possession of the inventory that you sell, you do have to pay for it upfront. You bulk buy the products you sell in your store and these goods get sent to the fulfillment center to be stored. Then, when you receive an order, the fulfillment center is notified and they are responsible for picking, packing, and shipping the items to the customer, again, as if they were sent from your company.
While the differences between these two types don't seem huge in comparison, not paying for inventory upfront by using a drop shipping service can save you thousands of dollars. Something like this is far more appealing to a smaller business, or one that doesn't have a large budget and is willing to have lower profit margins to get set up and running. However, there are other factors you need to consider on top of the inventory costs and profit margins so you can make the right choice between the two. So, what advice can we give you on how to choose?
How to Choose
Here are the main points you should think about when making your choice.
Customer Location
Since when working with a drop shipping service, they will most likely be located in China, sometimes it is better to choose a fulfillment center if your customer market isn't particularly international. For example, if you're an American store and you only ship within the US or US and Canada, then it's much better for your company and customers if you can find a fulfillment service within your own country. This way, your customers' orders will be delivered far quicker as they don't have to travel across the world. However, if you have an international market and ship everywhere, then using a drop-ship service, or even an international fulfillment center is a good option.
Your Range of Products
Depending on what you sell, you might struggle to find a drop shipping service that can supply all the goods that you need. Since many drop shippers are also the manufacturers, they are limited with what they can sell. For example, if you sell sneakers and hoodies but the supplier can only do one, then you have to use multiple drop shippers for your company. This can cause a lot of confusion and logistic issues. In cases like this, it's far more preferable to buy all the goods upfront and leave them with one eCommerce fulfillment center.
Budget and Margins
As we mentioned previously, you need to consider your budget and profit margins. So, if you use a dropshipping supplier, you won't have to pay any money upfront for inventory nor worry about paying for storage space. However, since you're only the middleman, you will need to share your profit with the drop shipper and have a lower profit margin with each sale. Whereas with an eCommerce fulfillment, you pay for the inventory, the storage, and their services, but, your profit margins will be much higher, if you're willing to put the money upfront to gain higher profits faster, then a fulfillment center is the one for you.
Technology
To work with either a drop shipper or an eCommerce fulfillment center, your store needs to "talk" to their company. This communication is to notify them of orders and ensure that both your systems are up to date with storage numbers, shipping statuses, and so on. If one of these services uses technology that isn't compatible with your store or vice versa then you have to consider finding a different company or taking a different route.
Undoubtedly, these are the main points that you need to mull over before taking the plunge with either. There are pros and cons to both, with the main issue being money and your budget. However, if you have the money then an eCommerce fulfillment center is far more reliable, helpful, and can really help your business grow faster.
E-Commerce Express Fulfillment
If you're ready to take your business to higher levels of success and work with one of the most trusted and affordable eCommerce fulfillment centers available, then our services are the right ones for you. At E-commerce Express we work directly with the original Chinese manufacturers and factories and help clients source products, warehouse their inventory, process their orders, and deliver them with fast shipping lines; we are so much more than just a 3PL company. Your business is in the best hands with us.